Objective

Create a 6-12 inch brownstone realistic sculpture that expresses your style + personality through its subject, form, surface treatment, + detail.
This form should be an existing 3D object inspired by a memory, family, friends, tradition, or personal interests showing a personal twist, or story through manipulation of the form, added objects, etc.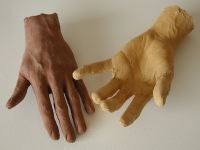 CLAY SCULPTORS:

Paul Day

, Robert Arneson, David Furlong, Paul Dresang, Richard Shaw, Tip Toland, Ron Mueck, Duane Hanson, & Judy Fox.
Paul Dresang
PART II | Ceramics Studio
1. Build solid form with clay. Try to work LIFE SIZE… so use a small object!
2. Allow clay to become leather hard and either:
a. CUT IN HALF, DIG OUT INSIDE, REATTACH, & POKE A HOLD
b. DIG OUT FORM FROM UNDER SIDE OF SCULPTURE
3. Sculpt & add detail. Make creative choices to execute an expressive & well crafted design.
a. Give the object a STORY. What happened to it? Is it functional?
b. Add another object to give more of a narrative to this scenario.
4. Carve initials on bottom & turn in uncovered to be fired in the kiln.